---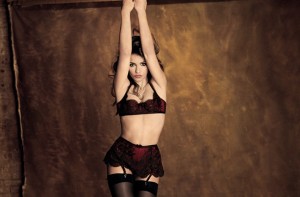 I like Agent Provocateur, the British lingerie brand that was started by Joseph Corré (the son of legendary British designer Vivienne Westwood) and Serena Rees in 1994. (The company was bought over in 2007 by 3i, the private equity firm). Within 20 years, it has become an almost iconic brand with its sexy products, provocative advertising and its use of famous ladies as models (including Kate Moss, Kylie Minogue, Catherine Bailey and Maggie Gyllenhaal).  The brand, that was initially only in London has now opened stores in other cities of the UK, Europe and Russia, North America, the Middle East, China and South East Asia. It has also extended its product line to include perfumes, beauty products and cosmetics.
Agent Provocateur is growing from strength to strength. Yet, over the years, it has received a fair bit of criticism – some have criticised the product quality while other have come down heavily on it for objectifying women.  In fact, some of its ads have been banned by the Advertising Standards Authority (United Kingdom) for "being degrading to women."
Obviously, we Indians will never be able to run the kind of ads that Agent Provocateur runs; the backlash would be intense.  Yet, there are some important points to note for marketers, especially when it comes to marketing expensive products that are unlikely to sell on rationality. Let's look at some aspects of Agent Provocateur's marketing:
Marvellous Window Displays and Outlets
Agent Provocateur's window displays are extremely attractive and alluring. They have colourful backgrounds and displays and feature mannequins in sexy lingerie and, sometimes, provocative poses. The displays came in for criticism in some countries of the Middle East and had to be made more 'acceptable'. However, like the displays or not, they do attract a lot of attention.
The Agent Provocateur stores are lit low and the displays are simple; there is a hint of retro and a little bit of naughtiness as well.
The Agent Provocateur packaging is quite brilliant. Its products are packed in beautiful pink boxes and are tied with black, silk ribbons.  An exciting gift to give and receive!  The brand has been quite consistent in its use of pink and black and its use of design and colour has been quite exemplary, strong reasons for the appeal of the brand.
The brand's advertising has consistently been suggestive and titillating. Many people have found some of their recent videos offensive and some of its ads have been banned by the ASA (UK). Most ads have, however, managed to stay on the right side of smut. Due to their seductiveness, Agent Provocateur's ads and photographs have consistently been carried by fashion magazines and other publications.
Their latest campaign though, featuring model Hailey Clauson, has become controversial.  Entitled Behind Closed Door, it shows Clauson in the role of a submissive, compliant wife who cooks, vacuums and cleans (all in her sexy lingerie)!  The images used in the campaign seem to have been lifted from a 2011 campaign that was run by another lingerie brand – Elegantly Scant.
Agent Provocateur has used PR stunts to its advantage.
In 2001, Kylie Minogue was shown in an ad astride a mechanical bull (and in Agent Provocateur's lingerie).  The ad went viral and was voted the best viral ad of the decade in a poll conducted by Go Viral. The video on YouTube has received over 350 million hits.
Agent Provocateur protested against the Iraq War through its Soho window display, which featured scantily clad mannequins bearing placards with the words "Weapons of mass distraction".
In 2008, it promoted a pair of bright orange knickers for Valentine's Day.  The copy that accompanied said, "Free trial – my a***".  The orange knickers were sold to raise awareness of the plight of prisoners at Guantanamo Bay, with half of the profits going to human rights group, Reprieve.  Gordon Brown, the then Prime Minister of the UK, was posted a free pair!
In a highly competitive lingerie market, Agent Provocateur has created a differentiated brand via its design consistency, its alluring packaging, its wonderful displays, its provocative advertising and its PR activities. Of course, the product range has been suitably sexy, completing the Agent Provocateur's masterly story. The brand knows how to tell a tantalising story and has done so consistently. And that is why it has managed to sell its products at fairly outrageous prices.
The brand has also been helped by the fact that celebrities like Zoe Ball, the English television and radio personality, was seen leaving an Agent Provocateur store just before her wedding with Norman Cook, the English DJ, rapper, musician and record producer (aka Fatboy Slim). David Beckham (now who doesn't adore the handsome footballer) was also seen with his arms full of Agent Provocateur boxes.
Sources: marketingmagazine.co.uk; Wikipedia.
Visual courtesy : agentprovocateur.com