Apple Promotes Jony Ive to Chief Design Officer
---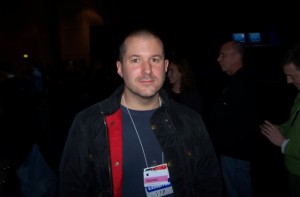 I believe that most companies don't give design the importance it deserves. Well, some, like Apple, do. And that is one reason why Apple products are such a delight.
I was happy to read that Jony Ive (Sir Jonathan Paul Ive), the English designer at Apple, has been promoted from Senior Vice President, Design to Chief Design Officer. A brilliant designer, Ive has, according to Wikipedia, 'designed many of Apple's products, including the MacBook Pro, iMac, MacBook Air, Mac mini, iPod, iPod Touch, iPhone, iPad, iPad Mini, Apple Watch and iOS. Steve Jobs considered Ive to be his "spiritual partner at Apple," while Fortune magazine stated in 2010 that Ive's designs have "set the course not just for Apple but for design more broadly".'
Ive will now have a broader role to play; apart from overseeing both industrial and software design, he will look into the overhauling of Apple's high street stores, Apple's Cupertino-based campus and its product packaging.
Richard Howarth will become vice-president of industrial design, covering product design while Alan Dye has been appointed vice-president of user interface design, responsible for the architecture of software for mobile and desktop devices.
Ive's promotion was disclosed in an interview in The Telegraph in which Apple CEO, Tim Cook, and Jony Ive spoke with Stephen Fry. You can read the interview here.
Visual courtesy: https://www.flickr.com/photos/michaeljohnston/