The Amazing Future of OOH
---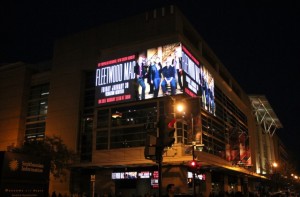 I just read an article in Adweek entitled 'How This Interactive Subway Ad Got Everybody Yawning, and Wanting Coffee.' The article outlines an interactive outdoor campaign by Lew'Lara\TBWA for Café Pelé at São Paulo's busy Fradique Coutinho subway station at morning rush hour.
A digital panel, equipped with a motion sensor, was set up at the subway station; when commuters approached the sign, the face on the panel would start yawning. This led to many of the commuters themselves yawning (yawning being contagious); at precisely that point the screen made a product pitch. Soon after, pretty girls armed with samples of Café Pelé coffee arrived, to get the commuters perked up. You can read about the initiative here.
The rise of digital technology may be negatively impacting traditional media like print. However, one medium that it is helping is out-of-home advertising. As the use of digital in OOH increases, it is likely to impact the medium favourably and one should see revenues grow in the medium. How creatively marketers use digital technologies in OOH would be a key to the long term success of digital OOH.
Digital out-of-home comprises different kinds of screen shapes, sizes, and levels of interactivity. Some of the areas where it is being used are outlined below:
Posters and billboards on roads
Signs on taxis, bus stops
Signage at airports and railway stations
Malls and markets
Gyms and other outlets
Any place that gets good traffic
In 2011, Kinetic Worldwide released the results from its study on the direction that out-of-home advertising will take in the UK. The study, here, entitled On the Threshold of Change—The Future of Out-of-Home Media (UK) predicted what all of us know – out-of-home media will increase its market share over the next few years due to digital technology. More importantly, consumers will become accustomed to interacting with large numbers of smart digital posters.
Some of the key points raised in the Kinetic report are reproduced from an article in Fepe International here: 
More than 100,000 digital posters will be visible in 30 major cities across the UK. Many posters in shopping malls, high-streets, leisure environments, transport systems and roadsides will be linked to the internet and capable of interacting with your mobile delivering information such as Facebook promotions. Even bus stops are set to go interactive in the next few years.
Large numbers of "smart" posters able to recognize whether you are male or female, your age and even whether you are happy or sad will appear over the next five years. Kinetic has already tested a smart poster and the first poster advertising campaigns that will react to passers-by are expected in the near future. Science fiction style technology enabling posters to recognize individuals is also nearing launch.
Digital technology will grow Out-of-Home's (OOH) total share of media from £880m (2010) to £1.15bn by 2020. Digital revenues will reach almost £260m accounting for approximately 23% of total OOH spend.
NFC and social media to transform relationship between posters and consumers with some urban areas delivering a multi-media experience. Instantaneous download capability within a growing number of smartphones, matched by NFC technology in posters, could transform promotional marketing and the distribution of social media and entertainment content even in low-dwell time urban environments. In addition a significant number of posters are expected to be capable of recognizing consumer types and moods.
Research indicates consumers already want to interact with posters: New research by Kinetic reveals that half of consumers already see the value of interacting with posters and 20% even expect to be recognised by posters in the future; 75% expect to carry a smartphone or tablet computer; 66% expect to see digital screens in most city centres; 70% think digital posters beneficial in high-dwell time locations.
Technology will forge a far closer relationship between poster advertising and other media. Kinetic's analysis suggests OOH will develop a symbiotic relationship with mobile marketing and internet based campaigns, opening up new revenue streams. Content will play an increasing role in OOH media and billboards are likely to become a distribution point for digitized news and entertainment content.
India is still to fully exploit the interconnectivity between out-of-home vehicles and digital technology. However, I expect this to change quite quickly; I am sure that outdoor agencies are seriously looking at integrating digital technology to all the outdoor vehicles.
If you are a big spender on OOH as a marketer, you should pressurise your OOH agency to present new ideas based on digital technology. Don't be complacent with what is in existence; for all you know, your competitors are cajoling their agencies to come up with more innovative solutions. Also, don't think of OOH in isolation; some of the most effective OOH campaigns have been the ones that have integrated outdoors with traditional media and social media.
Here are three examples of the innovative use of digital technology in OOH:
Volkswagen
Volkswagen UK launched a live interactive outdoor campaign for its new compact city car, up! The campaign featured original dynamic content created by motorists.
The Big up The up! campaign used the Volkswagen UK Facebook page and asked users to pay a compliment to the new Volkswagen up! model.  Volkswagen then returned the compliment by showing images of fans, accompanied by complimentary remarks, on outdoor screens.
Plan UK
Plan UK's Because I am a Girl campaign was aimed at highlighting the plight of the world's poorest girls; towards this it launched an innovative interactive ad on a bus stop in Oxford Street.
The advertisement used facial recognition software to determine whether a man or woman was standing in front of the screen. The technology amalgamated facial recognition, touch screen and sound. Depending on the sex of the person standing in front, it showed different content. Visitors could opt-in to view the ad and find out more about Plan's work to help some of the world's poorest girls. Males were denied the choice to view the full content in order to highlight the fact that women and girls across the world are denied choices and opportunities on a daily basis due to poverty and discrimination.
McDonald's Pick N' Play
McDonalds' Pick N' Play offered users a fun and interactive challenge where they could play for their favourite McDonald's treat. Using a large interactive billboard, users could control the game via their mobile phones enabling interaction with the billboard.
Players chose their treats and if they lasted for more than 30 seconds they would win a coupon, earning them free fast food at a nearby McDonald's. The digital coupon was automatically sent to the users' phone along with instructions on how to claim their McDonald's treat at the nearest store.
Do spend some time figuring out the possibilities that digital OOH offers. If you can get in first, you could score a march over competition and also get your potential consumers excited. Such innovations also have tremendous word-of-mouth and PR potential.
If you want to see some more examples of great interactive outdoor campaigns, read this Fast Company article here.
Visual courtesy: https://www.flickr.com/photos/perspective/