---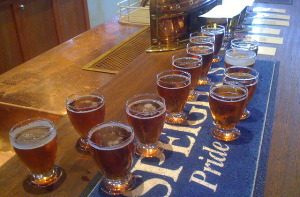 Experiential marketing can be an extremely powerful way to promote your brand. Unfortunately, the activation programmes that I have seen in India are just too lame – they lack the big idea (and the monetary courage to back them). What one sees are pathetic mall activations as the ultimate activation ideas that marketers in India come up with.
Here is an example of an outstanding experiential marketing campaign from New Zealand, done by the Publicis Group.

In 2007, Speight's unveiled an ambitious marketing campaign dubbed the 'Great Beer Delivery'. Spreight's just didn't send its beer to London – it built and transported a FULLY OPERATIONAL Speight's ALEHOUSE from Dunedin, New Zealand to London by sea aboard the MV Lida!
The campaign was brought about by Kiwis in London missing their favourite beer; they regularly send emails and letters to the brewery to send Spreight's to England. After a nationwide hunt for the five men who would make the voyage to London, the MV Lida departed Dunedin on July 25, 2007. The voyage took 76 days, arriving in London via Samoa, Panama, the Bahamas and New York on October 7, 2007. An accompanying replica bar was towed around New Zealand by truck.
As you can imagine, this simple idea became a national event in New Zealand and was covered on a daily basis from the time that the MV Lida left the shores of New Zealand till the time it arrived in London and was installed! The PR mileage that Speight's got was incalculable.
So the next time you are thinking of experiential marketing for your brand, think boldly! Like Spreight's.
Visual courtesy : https://www.flickr.com/photos/paul/