The Discipline of Market Leaders: Choose Your Customers, Narrow Your Focus, Dominate Your Market
---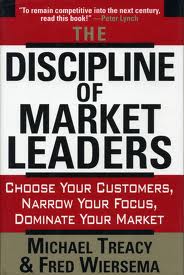 – By Michael Treacy & Fred Wiersema
The Discipline of Market Leaders was a best seller when it was released. It is highly insightful and well written and should be read by all executives, including marketing ones. Since it was written in 1995, some of the examples may not be appropriate for today but what they have to say still holds, by and large. The book is based 'upon the results of a comprehensive, three-year study of more than 80 corporations in more than three dozen markets.' The key insight: a company cannot succeed by being all things to all people. It must focus on the unique value that the company can consistently deliver to a selected market.
Treacy and Wiersema identify three value disciplines that explain the leadership of many of the companies they investigated:
Operational excellence – FedEx, Hertz #1 Club Gold, McDonald's. Companies that are operationally excellent are not innovators nor are they outstanding on customer relationships. However, they are great execution experts, offer reliability, stress of low prices (right throughout, not during clearance sales) and provide hassle-free service. Inspired by Henry Ford, their business is proceduralised, rule-driven and highly regimented. Operationally excellent companies have a culture that dislikes waste and inefficiency.

Product leadership – 3M, Nike, Apple, Sony, Intel. Product leadership companies offer the best products. These companies are not necessarily driven by procedures but the commitment to develop and market breakthrough products on a regular basis. They are willing to place bets – big and small – and are also willing to go with their gut.

Customer Intimacy – IBM, Nordstrom. Customer Intimate companies focus on specific customer needs and aim to provide a complete solution. Strong and long-term customer relationships are what they strive for and are willing to go to any lengths to keep a customer happy. They have the expertise to change the way a client manages the underlying problem within his organisation.
Treacy and Wiersema also recommend four rules that embracers of value disciplines must follow:
Rule 1: Provide the best offering in the marketplace by excelling in a specific dimension of value
Rule 2: Maintain threshold standards on the other dimensions of value
Rule 3: Dominate your market by improving value year after year
Rule 4: Build a well-tuned operating model dedicated to delivering unmatched value
Selecting and then focussing on one of the value disciplines makes a lot of sense and also explains – to a fairly accurate degree – how many of the very successful companies have operated in becoming leaders in their industry. Therein lies the strength of Treacy and Wiersema's book.
Somewhere on this website, there is a link to the HBR article that preceded the book. That covers what the book has to offer, albeit without the examples and details that Treacy and Wiersema introduce in the book. If you are not inclined to go through the book, at least go through the HBR article. It would be worth your while.
Rating: A+