Who's Driving the Luxury Market?
---
Since 2005, I have met a number of designers and executives from luxury brand companies. A few years ago, they were all very gung ho about India; however, since then, I have noticed a discernible cooling down of their enthusiasm. And the reasons:
The Indian custom duty on imported luxury goods is very high at 38%. In China it is 17% and there is no custom duty in Hong Kong and Singapore. This makes the prices of luxury goods in India much higher; Indian Richie Riches prefer to buy luxury brands abroad since they travel there quite often. Representatives of luxury bodies from France, Italy and the UK have been trying to convince the Indian government to lower taxes.
Indian consumers are suspicious that the goods available in India may not be the latest and that the entire range may not be available.
India lacks the high streets that house luxury stores in other countries. Thus, most luxury brands tend to have stores in 5-star hotels or in luxury malls like DLF Emporio in New Delhi. This lack of infrastructure is a big deterrent.
While 100% foreign direct investment FDI is allowed in single-brand retail, the government wants such retailers to source 30% of their manufacturing requirement from India.
As always, luxury companies complain about the ease of doing business in India.
The Indian luxury market is estimated at $14 billion (BCG estimates) and is on a growth path; yet, luxury brands are pretty cautious about us.
It is China which they see as their saviour. The luxury industry market is virtually stagnant in Europe, Japan and the US. In China, however, millionaires are mushrooming and driving the luxury market.
Erwan Rambourg, a Managing Director and a luxury industry analyst with HSBC, has written a book called the "Bling Dynasty: Why the Reign of the Chinese Luxury Shoppers Has Only Begun." I haven't read the book but I have read about it. Since I have an interest in the luxury goods market, I thought I will share some insights from Rambourg and his book. The insights are based on articles in Business Insider and WSJ:
The Chinese political administration has clamped down on gifting of luxury goods to bureaucrats and political leaders. Gifting was an important reason for the phenomenal growth of the luxury market in China and many felt that the restrictions will bring down the growth. However, Rambourg feels that Chinese consumption will continue to increase and China will become the dominant luxury market. Chinese consumers account for more than a third of the global luxury market today; they are likely to account for 50% in the next ten years.
An article in Business Insider highlights the Rambourg pyramid which is shown below: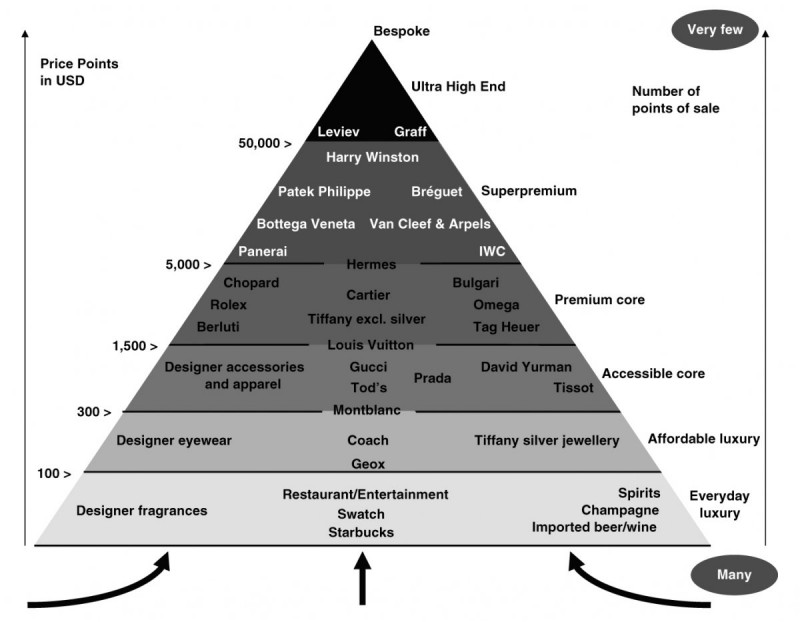 The brands are ranked on price on the left. Anything under $100, like designer perfume or cologne, alcohol and Starbucks is considered an everyday luxury. Affordable luxury is anything below $300. Under $1,500 counts as the accessible core with brands like Gucci and Prada. Premium core brands (anything under $5,000) includes Louis Vuitton, Cartier and Rolex. Dominating the top are super premium (i.e. Patek Phillippe, Panerai and Hermes) and ultra-high-end (premium diamond territory), where the $50,000 mark separates the two.
The price of a product doesn't necessarily determine the popularity all the time — exclusivity is key. Brands that become too accessible are less appealing to super rich buyers. Louis Vuitton, for instance, is considered a "brand for secretaries" by many wealthy Chinese, mainly because everyone seems to have it. The brand has become too ordinary. Gucci, too, is suffering from a similar problem. It is bespoke goods and lesser known European labels like Bottega Veneta that are soaring.
Rambourg feels that 'a brand has to strike a balance between sales growth and overexposure. Luxury consumers are like kids. Brands are a dream, an aspiration. If you get the impression that you're the only one, that you're unique and being the only one told the story, you'll pay up. If you feel like everyone else, you won't. You have to develop the illusion or reality of scarcity. This is the French paradox of selling more of what is perceived to be exclusive. It seems contradictory. However, these companies want growth and make more money. What about Louis Vuitton? It's synonymous with the luxury boom, but also seems to be flirting with becoming too ubiquitous. Louis Vuitton has come out with more targeted advertising, they've launched salons, and they've launched limited editions. If you're a VIP consumer, you will get treated differently. They've become creative to make people feel unique. It's about mass customization, from something as simple as putting your initials on the product. You have to feed the illusion and scarcity. And I think they do.'
The Chinese market has been different from the Japanese market. The Japanese market was centred on the office lady. These are secretary-types who were living with parents, allocating most of their income to their next handbag. The Chinese market was built by men. The core consumer was male, businessman, a lot of corporate gifting, instead of self-purchasing. Today, the core consumer in Japan is female and aging. The core consumer in China is diverse. You still have the businessmen, but you have the emergence of young, female shoppers and a whole diversity of consumer profiles you don't see in Japan.
Currently in Japan, there's a move away from luxury and brands. They're looking for more holistic experiences: Instead of a handbag, they're going to a spa.
The American consumer was restricted by a guilt factor. They would stay quiet, be discreet, but they're now more accepting to spending a lot. The Chinese consumer is going the other way around. Thanks to travel and blogs, they know what they should be paying and that the better price is abroad. They still love brands but they don't want to be ripped off. They want to pay the appropriate price. There's a value-for-money culture that's taking root.
The consumer, irrespective of where he or she is buying, is becoming more Chinese. In Hong Kong, you're selling to mainland Chinese. In Korea, you're selling to Chinese. In Paris, in London, now in the U.S., you're selling incrementally to the Chinese. The idea is that the brand's footprint is global. The cities look alike because the stores are developing all over. But, the consumers who are buying are more and more Chinese. The majority of sales is to non-locals, and among them, the Chinese are moving up and becoming more important.
Sources:
Business Insider. You can read the Business Insider article 'Here's the hierarchy of luxury brands around the world'

here

.
The Wall Street Journal. You can read the WSJ interview with Rambourg 'Writing China: Erwan Rambourg, 'Bling Dynasty'

here

.
You can read the Nextshark article 'Luxury Brands Ranked for the Wealthiest Asian Shoppers'

here

.
Visual courtesy: https://www.flickr.com/photos/gaigai25/