Measuring Marketing: 103 Key Metrics Every Marketer Needs
---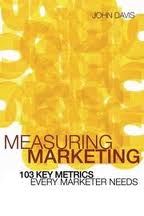 – By John Davis
Non-marketing people in many organisations look down upon the 'marketing types' primarily because they never get to understand what all the marketing spends have finally achieved for the company. Marketers are viewed as people focussed on developing 'brand strength' and 'brand image' based on advertising spends. Many marketers have not helped their cause by setting up a robust system of measuring results of their marketing actions.
There is no doubt that Marketing is hard to measure; marketing spending and effectiveness are difficult to gauge. Yet increasingly, especially during these tough times, CEOs and CFOs are questioning the returns on marketing expenditure. Unfortunately, there is no single measure that can show the overall effectiveness of marketing efforts. Strict financial measures do not reflect the impact of the marketing programme undertaken by the marketing department.
Measuring Marketing: 103 Key Metrics Every Marketers Needs describes the different measures that marketers and senior managers should know and use to study the impact of their programmes and also to convince managers in other departments. Professor Davis has organised his book into three sections:
Marketing Planning and Customers

The Offering

Sales Force
The first section includes 32 measures including revenue, gross profit, return on sales, return on assets, return on equity, time series analysis, market share, market demand, customer profitability, break-even analysis, retention rate and return on customer.
The second section has 48 measures around the product, pricing, distribution and advertising including new product purchase rate, mark-up price, share of voice, reach, frequency, response rate, conversion rate, cost per click, click-through rates, hits, brand equity, inventory turnover, retail close ratio, retailer's margin percentage and percent utilisation of discounts.
The third section includes 23 measures on the sales force including independent sales representative analysis, turnover rate, average sales per call, cost per call, sales variance analysis, four factor model and profit-based commission.
The book has some advantages:
It is arranged very well and simple to read.

It explains each metric well although the coverage is not detailed.

Each metric has a clear three-part structure: the need for a metric, the solution that the metric offers and its impact on decision making.

The range of the metrics is fairly comprehensive.
Any marketer could look at the 103 metrics and come up with a smaller set that would be useful to his/her business.
The recent importance of social media in marketing activities implies that some more measures are needed to study the impact of this media; possibly some additional measures in the internet and social media space would need to be added to the 103.
Of course, the key to using these metrics is that data – from customers, from research agencies and from the media measuring sources – are readily available to the marketers. Also, most good companies would have their own standard set of metrics. The advantage of this book is that it allows marketers to expand the range of measures to study the impact of marketing, take appropriate corrective action and explain to the rest of the organisation the impact of marketing on the overall business.
Rating: A-
Note: I own the first edition of the book. John Davis has come out with a second edition of the book that has been updated and has 110 key metrics. If you are planning to purchase this book, you would be better off going for the newer edition.