---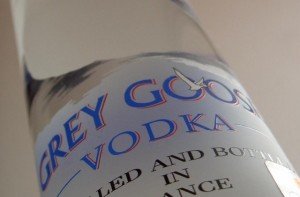 Absolut. Smirnoff. Stolichnaya. These are the vodka brands that one wanted to drink when one was in a particularly extravagant mood. Of these and others vodkas (all priced around $15-$17 in the US), Absolut was widely regarded as the best and most premium vodka brand in the US and around the world. In fact, when it was first introduced, Absolut's price was considered atrociously high. But it had great success on the back of its unique bottle and its brilliant ad campaign. (We have all admired Absolut's iconic ads).
So, to steal away Absolut's market share, what would any of us do with a new brand? Obviously launch a cheaper brand! Sidney Frank, an American entrepreneur, thought otherwise. He decided to launch his brand at almost double the price of Absolut – $30!
ENTER GREY GOOSE!
To be fair, the first super-premium vodka was the Polish Belvedere, launched in 1996; Grey Goose actually came a year later.
However, where Frank scored was in building a unique connection with Grey Goose (he thought of the brand name even before he had thought of anything else around it). And that unique connection was French!
Frank decided to produce the vodka in France; this despite the fact that vodka had a very strong association with Russia and the Scandinavian countries. His reasoning was sound – France was where the best luxury products come from. To his mind, Grey Goose was not coarse Russian vodka—it was a refined masterpiece especially created by French vodka artisans. It used the purest waters from natural French springs, filtered through Champagne limestone.
He took great care with the bottle; it was a distinctive, carefully designed one, with smoked glass and a silhouette of flying geese. To ensure that the bottle got prominence in bars, he created large 1.75 litre bottles that would accentuate the beauty of the bottle design.
Even on as mundane a thing as outer packaging, he decided to ship Grey Goose in wood crates, like fine wine, not in cardboard boxes like cheaper vodkas. This reinforced the quality connotation with the bartenders.
Finally, he chose his audience carefully – it had to be the very high end! He set up Grey Goose counters at charity events and offered free cocktails to the haut monde.
Grey Goose was an amazing hit from the start! Eight years after launch, the brand was sold by Frank to Bacardi for $2.2 billion! Cash! (That's around Rs.12, 000 crores)!
Visual courtesy : http://www.flickr.com/photos/elgrandee/