The Innovator's Dilemma: When New Technologies Cause Great Firms to Fail
---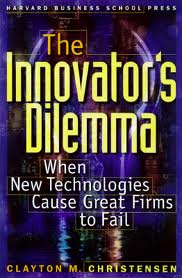 – By Clayton M. Christensen
The Innovator's Dilemma: When New Technologies Cause Great Firms to Fail took the business world by storm when it was released in 1997. Written by Clayton M. Christensen of Harvard Business School, it outlined his theory of disruptive innovation.
In the introduction to the book, he writes that the 'book is about the failure of companies to stay atop their industries when they confront certain types of market and technological change. It's not about the failure of simply any company, but of good companies – the kinds that many managers have admired and tried to emulate, the companies known for their abilities to innovate and execute.'
The examples of good companies that failed include Sears Roebuck, one of the most admired retail giants and Digital Equipment Corporation (DEC), long admired and prominently covered in Tom Peters/Robert H. Waterman Jr.'s bestselling book In Search of Excellence. Even companies like IBM and Xerox totally missed big opportunities that disrupted the industries they were a part of (IBM missed the emergence of the minicomputer while Xerox missed the growth and profit opportunities of the small table top photocopiers).
A primary reason for the failure of successful, well managed companies is that they put too much emphasis on customers' current needs, and fail to adopt new technology or business models that would meet customers' unstated or future needs. This is what Dr. Christensen called 'disruptive innovation'. (Actually, Dr. Christensen used the term 'disruptive technologies' in the book but changed it to 'disruptive innovation' in his follow-up book – The Innovator's Solution. He did this because he realised that the problems that some good companies got into were not really due to major technological breakthroughs by competitors but more due to the adoption of different business models).
Well-managed companies are great at 'developing sustaining technologies that improve the performance of their products in the ways that matter to their customers. Disruptive technologies, however, are distinctly different from sustaining technologies. Disruptive technologies change the value proposition in a market. When they first appear, they almost always offer lower performance in terms of the attributes that mainstream customers care about….disruptive technologies have other attributes that a few fringe (generally new) customers value. They are typically cheaper, smaller, simpler, and frequently more convenient to use. Therefore, they open new markets. Further, because with experience and sufficient investment, the developers of disruptive technologies will always improve their products' performance, they eventually are able to take over the older markets. This is because they are able to deliver sufficient performance on the old attributes, and they add some new ones.'
The Innovator's Dilemma discusses disruptive innovations in the disk-drive, excavator, steel and auto industries. The book argues that it is not that well-managed companies are not aware of the disruptive innovations; it is just that the business environment does not allow them to pursue these innovations because they appear small and low on profitability. These disruptive technologies only appeal to start-ups or small companies.
Dr. Christensen recommends that companies should:
Learn when to investigate, develop and deliver disruptive technologies

Learn to organize their company to stimulate development of disruptive technologies

Learn to recognize the value of disruptive technologies through small and measured steps.
Disruptive technologies require a paradigm shift in understanding how companies should do business. Companies should realise that there could be high failure rates associated with such technologies and that the market for disruptive technologies are new markets, not existing ones. Also, support for such technologies could be lukewarm since they do not form a part of what the company current does. Dr. Christensen, therefore, recommends the creation of a different division or company to handle disruptive technologies.
The Innovator's Dilemma is an important book and marketers must read it to understand how even great companies fall because, even if they know of a technology disrupting – or likely to disrupt – their industry, they don't take the necessary actions to combat the slow creeping competition.
Rating: A+