---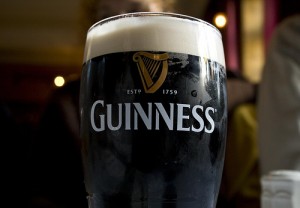 I have always been fascinated by Guinness, primarily because of its unique, black colour and partly because of some really great advertising that the brand has run over the years. I still remember my first trip to London in 1995; one of the first things I did there was to visit a pub and order a glass of 'the black stuff!' And what a satisfying experience that was. Guinness is now available in India, although sparsely, so do give it a try if you still haven't and if you can find it!
Guinness is an Irish dry stout that was launched by Arthur Guinness in Dublin in 1759. Today, it is one of the most successful beer brands worldwide, brewed in almost 60 countries and available in over 120. According to Wikipedia, Guinness sales are around 850 million litres per year.
Arthur's father, Richard, managed land for the Archbishop of Cashel and brewed beer for the workers there to keep them on the right side. Arthur learnt beer making from his father; at the age of 31 and with a £100 inheritance from the Archbishop's will, Arthur set up a small brewery in Dublin.
In 1759, Arthur rented an old brewery in Dublin to start production. It is a credit to his vision and foresight that Arthur signed a 9,000-year lease!
However, in 1775, he ran into trouble with the Dublin Corporation which demanded levies for the clean spring water that Arthur's brewery was using. He refused, citing the terms of his lease that included rights to draw water from the spring. The Dublin Corporation sent in men to stop the brewery from drawing water. Undeterred, Arthur Guinness picked up a pick-axe and stood his ground. Saner sense prevailed, there was no violence, a settlement was reached and Guinness was granted water rights for another 8,975 years!
Arthur Guinness started selling dark beer in 1778. While initially producing ale as well, Guinness decided to concentrate on producing only its dark beer which came to be known as Irish or Guinness stout. In 1886, Guinness became the world's largest brewery, producing 1.2 million barrels of stout a year.
Guinness stout has a unique burnt flavour; that comes from roasted unmalted barley. Most beers are fuzzy because they are carbonated with carbon dioxide which is dissolved in the beer under pressure; Guinness draught beer's thick, creamy head comes from mixing the beer with nitrogen when poured. This use of nitrogen to get the characteristic white head was later innovated into Guinness cans and bottles as well.
As a marketer, I have found Guinness a very interesting brand for the reasons that I am outlining below:
Differentiated offering: We all talk about differentiation but rarely achieve it. Guinness did that by only concentrating on its black stuff. Of course, in recent times, other variants have been launched but I, as most people, will always associate Guinness with its dark stout.
Running a successful family business: Few large businesses have been run by one family for over 200 years. I mean there are many successful family owned businesses around the world but most are not even 100 years old. Guinness is one exception: when Arthur died in 1803, he left the company to his son Arthur Guinness II. When Arthur Guinness II died in 1850, he handed over the business to his son, who went on to become Sir Benjamin, Lord Mayor of Dublin. Upon his death in 1868, Sir Benjamin handed the business on to his son, Arthur, who sold it to his brother Edward. Edward, his son and then his grandson chaired the company into the 1980s. Finally, the company was sold to Diageo PLC in the 1990s although the family still retains a large financial stake in it.
Using Science and Data Analysis: Guinness is one of the early companies to make use of science and statistical analysis in its business. The brewery hired the statistician William Sealy Gosset in 1899, who achieved lasting fame under the pseudonym "Student" for techniques developed for Guinness, particularly Student's t-distribution and the even more commonly known Student's t-test. In 1893, the company had hired a university science graduate, T. B. Case, and established a research lab in 1901.
Welfare for Workers: Again, Guinness was one of the first companies to start schemes for its workers. By 1900, the brewery was operating unparalleled welfare schemes for its 5,000 employees.
Innovation: Guinness spent a lot of money on innovations. One example is that of the 'widget.' When can beers became the fashion, Guinness was at a disadvantage – it didn't pour well because the distinctive creamy head was lacking. Guinness spent 25 years and $12 million to solve the problem; in 1985, it introduced the 'widget' in its cans that helped produce the creamy head. The 'widget' was a small plastic ball containing nitrogen and won the Queens award for technological achievement in 1991. The widget in cans was followed by the widget in bottles as well.
In 2006, Guinness introduced the 'surger' in Britain. The surger was a plate-like electrical device that sent ultrasonic waves through a Guinness-filled pint glass to recreate the beer's "surge and settle" effect. The device worked in conjunction with special cans of surger-ready Guinness. Guinness tried out a primitive version of this system in 1977 in New York. The idea was abandoned until 2003, when it began testing the surger in Japanese bars, most of which were too small to accommodate traditional keg-and-tap systems. Since then, the surger has been introduced in other parts of the world.
Advertising: Guinness's advertising has been outstanding through the years. Till the 1920s-1930s, Guinness ran almost no advertising, relying only on word-of-mouth. But since the 1930s, the company ran one great campaign after another. Guinness's iconic stature today owes a lot to its advertising.
The following details from Wikipedia outline the key campaigns that Guinness has run since the 1920s:
-Guinness ran an advertising campaign in the 1920s which stemmed from market research – when people told the company that they felt good after their pint, the slogan – 'Guinness is Good for You' was introduced.In the -1930s and 1940s, Benson created posters that included phrases such as 'Guinness for Strength', 'Lovely Day for a Guinness', 'Guinness Makes You Strong', 'My Goodness My Guinness', and the famous, 'Guinness is Good For You'. The posters featured Gilroy's distinctive artwork and more often than not featured animals such as a kangaroo, ostrich, seal, lion and notably a toucan, which has become as much a symbol of Guinness as the harp. (An advertisement from the 1940s ran with the following jingle: 'Toucans in their nests agree/Guinness is good for you/Try some today and see/What one or toucan do.') Dorothy L. Sayers and Bobby Bevan, copywriters at Benson's, also worked on the campaign; a biography of Sayers notes that she created a sketch of the toucan and wrote several of the adverts in question. Guinness advertising paraphernalia, notably the pastiche booklets illustrated by Ronald Ferns, attract high prices on the collectible market.
– Many of the best known Guinness television commercials of the 1970s and 1980s were created by British director, Len Fulford.
– In the late 1980s and early 1990s in the UK there was a multi-award-winning series of 'darkly' humorous adverts, featuring actor Rutger Hauer, with the theme 'Pure Genius', extolling its qualities in brewing.
– The 1994–1995 Anticipation campaign, featuring actor Joe McKinney dancing to 'Guaglione' by Perez Prado while his pint settled, became a legend in Ireland and put the song to number one in the charts for several weeks. The advertisement was also popular in the UK where the song reached number two.
– In 2000, Guinness's 1999 advertisement Surfer was named the best television commercial of all time in a UK poll conducted by The Sunday Times and Channel 4. This advertisement is inspired by the famous 1980s Guinness TV and cinema ad, 'Big Wave', centred on a surfer riding a wave while a bikini-clad sun bather takes photographs. The 1980s advertisement not only remained a popular iconic image in its own right but also entered the Irish cultural memory through inspiring a well-known line in Christy Moore's 1985 song 'Delirium Tremens'. Surfer was produced by the advertising agency Abbott Mead Vickers BBDO.
– Guinness won the 2001 Clio Award as the Advertiser of the Year, citing the work of five separate ad agencies around the world.
– In 2003, the Guinness TV campaign featuring Tom Crean won the gold Shark Award at the International Advertising Festival of Ireland, while in 2005 their Irish Christmas campaign won a silver Shark. This TV ad has been run every Christmas since 2003 and features pictures of snow falling in places around Ireland, evoking the James Joyce story The Dead, finishing at St. James's Gate Brewery with the line 'Even at the home of the black stuff they dream of a white one'.
– Their UK commercial noitulovE, first broadcast in October 2005, was the most-awarded commercial worldwide in 2006. In it, three men drink a pint of Guinness, and then begin to both walk and evolve backward. Their 'reverse evolution' passes through an ancient Homo sapiens, a monkey, a flying lemur, a pangolin, an ichthyosaur and a velociraptor until finally settling on a mud skipper drinking dirty water, which then expresses its disgust at the taste of the stuff, followed by the line 'Good Things Come To Those Who Wait'.
– Two further advertisements in 2006 and early 2007, 'Hands' and 'St. Patrick's Hands' were created by animator Michael Schlingmann for Abbott Mead Vickers BBDO. They feature a pair of hands, animated in stop motion under a rostrum camera. 'Hands' focuses on the 119.53 seconds it takes to pour a pint and 'St. Patrick's Hands' is a spoof of 'Riverdance', with the animated hands doing the dancing.
– Guinness's 2007 advertisement, directed by Nicolai Fuglsig and filmed in Argentina, is entitled 'Tipping Point'. It involves a large-scale domino chain-reaction and, with a budget of £10m, is the most expensive advertisement by the company so far.
– And in 2009, the 'To Arthur' advertisement, which started with two friends realising the long history, hail each other by lifting up their glass and saying 'to Arthur!' The hailing slowly spreads throughout the bar, to the streets outside, and acuminates to around the world. The advertisement end with the voiceover, 'Join the worldwide celebration, of a man named Arthur'.
This gave rise to the event now known as Arthur's Day. Arthur's Day is a series of events and celebrations taking place around the world to celebrate the life and legacy of Arthur Guinness and the much-loved Guinness beer which Arthur brought to the world. It took place for the third time at 17:59 on 22 September 2011.
Guinness also started the Guinness Book of World Records, an initiative that has become as popular as the brand itself.
There are few brands that have had such a long and generally successful history as Guinness. Within this time, the brand has acquired a cult status, mainly due to the points highlighted above. There is a lot that marketers can learn from the business history of Guinness.
Sources: Wikipedia on Guinness; Inventing Millions by Simon Torok and Paul Holper.
Visual courtesy: https://www.flickr.com/photos/alatryste/