---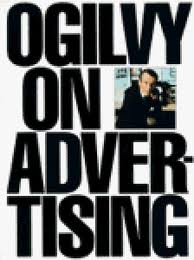 – By David Ogilvy
David Ogilvy starts this book thus: 'I do not regard advertising as entertainment or an art form, but as a medium of information. When I write an advertisement, I don't want you to tell me that you find it 'creative.' I want you to find it so interesting that you buy the product. When Aeschines spoke, they said, 'How well he speaks.' But when Demosthenes spoke, they said, 'Let us march against Philip.' I suppose that is what any marketer or advertising type needs to know; unfortunately, so much of advertising today is so much meaningless fluff, it's appalling.
Before starting his own agency, Ogilvy had a diverse and interesting career: he was an apprentice chef at the Majestic Hotel in Paris; he sold cooking stoves door-to-door and wrote an instruction manual for the ASA cooker; and he worked as a researcher at Gallup. His research stint and a direct mailer that he wrote for a small client in his earlier years made him a big believer in research and direct marketing.
Ogilvy strongly believed that the function of advertising is to sell and that successful advertising for any product is based on information about its consumer. And these and other beliefs show through in Ogilvy on Advertising.
In the book, Ogilvy covers a wide range of topics, some of which are given below:
How to produce advertising that sells

How to get clients

The secrets of success in business-to-business advertising

Direct mail, my first love and secret weapon

18 miracles of research

What little I know about marketing

Lasker, Resor, Rubicam, Burnett, Hopkins and Bernbach

What's wrong with advertising?
There are other chapters and, taken together, they offer a fascinating glimpse of how the great man viewed advertising. Of course, he had strong opinions; also, the book is more print-centric since it was written in the early-1980s and has many examples of ads from the 1960s and 1970s. Yet, it is a wonderfully engaging book that every young marketing and advertising guy can gain immensely from. As can some of the not-so-young.
Rating: A