Hey Whipple, Squeeze This: A Guide to Creating Great Ads
---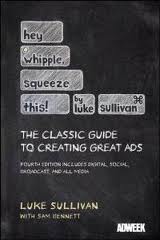 – By Luke Sullivan
Luke Sullivan has the credentials to write a book on advertising from the creative point-of-view; he is an award-winning copywriter who has worked in agencies like Fallon McElligott, the Martin Agency and GSD&M. He is now the Chairman of the Advertising Department at the Savannah College of Art & Design.
Hey Whipple is an extremely entertaining book and while the creative types will obviously benefit by reading it, the suits and the marketing guys would too.
Sullivan's key argument on advertising is made in the first chapter itself – while advertising must sell, it does not have to be irritating and boring. As an example, he talks of Mr. Whipple, the long-running character in Procter & Gamble's Charmin commercials who was universally disliked and yet helped Charmin sell tons of toilet paper to make it the No.1 brand in its category (replacing Scott in the bargain). So there was this huge dichotomy – on the one hand, all researches pointed out to the fact that Mr. Whipple was disliked by a large proportion of the population and, on the other, he helped sales and was (after Richard Nixon) the most recognised person in the US in the 1970s.
Sullivan looks to the legendary Bill Bernbach to support his view that 'a commercial needn't sacrifice wit, grace, or intelligence in order to increase sales'. It was Bernbach who said, 'The truth isn't the truth until people believe you, and they can't believe you if they don't know what you're saying, and they can't know what you are saying if they don't listen to you, and they won't listen to you if you are not interesting, and you won't be interesting unless you say things imaginatively, originally, freshly.'
Sullivan obviously prefers the Bernbach road in the fork over the Whipple road. And the rest of the book gives nuggets of advice on how to create advertising that can lead to enduring brands and market leadership without embarrassing itself. Sullivan gives guidelines, with examples, on how to create great print advertising, TV commercials and even radio. He also has chapters on how to protect your work, how to get into the advertising business and why advertising is a profession worth getting into despite the strong contrarian view amongst a large number of people.
As I mentioned earlier, Sullivan's book is highly entertaining, has some great examples, and has a healthy dose of 'general gyan.' And that is where it lacks – it does not provide a definite theory for creating effective advertising like, say, the excellent Rosser Reeves' book – Reality in Advertising (in which Reeves makes a strong case for the Unique Selling Proposition in advertising). Forget a theory; it even lacks specificity in many of its recommendations. In Sullivan's defence, advertising is more an art than science and thus cannot, and possibly shouldn't, have a one-size-fit-all theory for creating winning ads.
To conclude, while the recommendations in Sullivan's book are general, it is still a highly entertaining and likeable book. And everybody – advertising professionals and marketing professionals included – will only learn something by going through it.
Note: I have the first edition of the book. Since then, newer editions of the book have come out and you would be better served by reading the latest edition. (The accompanying visual is of the fourth edition).
Rating: A-