The Flight of the Phoenix!
---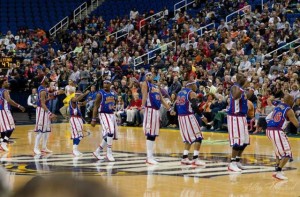 The most heroic stories in business are those where a company or a brand on its last legs is nursed back to health. One such story is that of the Harlem Globetrotters, a team that almost all of us would have heard of but which was almost dead by the late-1980s.
Somehow, the name Harlem implies that the Harlem Globetrotters are from New York. However, the Harlem Globetrotters were formed in 1926 in Chicago and Harlem was adopted because all the players were of African – American origin. Racism in the 1920s was alive and kicking in the USA and black players were not allowed to take part in the leading professional leagues. African-American players were naturally gifted and the Harlem Globetrotters became hugely popular due to the incredible dexterity of the players and the comedic entertainment that they provided.
Some of the best basketball players were part of the Harlem Globetrotters; among these were Marques Haynes, George "Meadowlark" Lemon, Fred "Curly" Neal and Reece "Goose" Tatum. Wilt "The Stilt" Chamberlain, Connie "The Hawk" Hawkins and Nat "Sweetwater" Clifton represented the Globetrotters before on to the NBA.
However, despite their early success, the Harlem Globetrotters could not match the increasing popularity of the NBA and were headed towards extinction in 1992. That is when Honeywell executive and former Globetrotter Mannie Jackson took over – he purchased the team in 1993 and started to work on a strategy and action plan to revive the Harlem Globetrotters. And here is what he did:
STRONG PERSONAL BELIEF: This is what Mannie Jackson wrote in an HBR article – "In 1992, the Harlem Globetrotters were heading down that path [extinction], but I thought I could get them back on the right road. I was convinced the brand still had value. So I talked things over with two bankers, who were also close friends of mine, and we got a group of investors together—mostly friends and business connections I'd made during my 25 years at Honeywell. We convinced them that the Globetrotters organization was worth buying." Jackson firmly believed in the Harlem Globetrotters brand and was passionate enough to try and revive it.
THE PROBLEM: Again in Jackson's words –"By 1993 the Globetrotters were simply not relevant. They weren't stylish, and they weren't cool. They weren't a priority for anyone—they weren't on MTV or The Tonight Show, and the president didn't invite them to the White House. I wanted to find out how bad the damage was, so we held a series of focus groups around the country and brought together people who had seen us perform with those who hadn't. The meetings were very expensive and difficult to set up, but the information we got as a result was more than worth it. Young people would tell us they didn't know anything about the Globetrotters, and many of the older folks hadn't heard about us recently. "How good are you really?" they would ask. "Are you just clowns, or can you play basketball?"
NEW VISION: Saving the Globetrotters would become a religion. He communicated this to the players and everyone else associated with the team. He also decided that the games that the Globetrotters would play would be of the highest quality.
REINVENTING THE PRODUCT: Since, as mentioned earlier, the Globetrotters were being seen more as clowns than serious (and good) players, Jackson decided that the play quality of his team would be of the highest order. He arranged for some serious competition with established state and college teams, many of whom the Globetrotters beat. While the showmanship was still at the heart of the Globetrotters, showing that they knew how to play GREAT basketball was at the heart of the reinvention. "When we are not playing competitive games, our three touring teams play against three exhibition teams. Our philosophy is simple. In each game, we set out to do three things: we're going to show you we can play basketball, we're going to give an exhibition of basketball feats you've never seen live before, and we're going to make you laugh and feel good. When the team was not playing competitive basketball games, it would play exhibition games. In each exhibition game, we start off playing serious, competitive basketball, and the fans in the audience quickly realize that our guys can really play. They'll recognize players who were at Maryland or UCLA or Kentucky. Then we move on to the highlight-film part of the game. We have players who do things you can only see if you come to one of our events, like shooting behind-the-back hook shots or dunking through a 12-foot basket, which is the world record. We stress perfect execution every single night so people will say, "Wow, I've never seen anything like that before." The third part of each game is the stand-up comedy. We have one or two guys on each team who are world class comics. They can walk into an arena full of 20,000 people and get everyone laughing and feeling better about the world.
The whole package is choreographed like a Broadway musical. Let's face it, a two-hour basketball game can be pretty dull. To get rid of the dead time, we carefully added music to our events. Our announcers now have a computer board, and they plug in tracks that fit with what's happening on the floor. So if the action is fast paced, they might play a hip-hop song, and if the other team is coming back, they might play a big-band dance tune. And then, when the comics come on, everything stops. They go out into the audience with body microphones, tell jokes, do comedy routines. Sometimes it's completely outrageous, but it's always appropriate for families.I learned an important lesson about the product several years ago when I brought an executive from Disney, one of our sponsors, to a game in Europe. As we watched, I asked him what he would do different. He sat for a while and then he said, "You know what? It's a 90-minute show, no more." I was shocked. We had been stretching out the events for two-and-a-half hours, like NBA games. On school nights, kids would be falling asleep. Now we do it all in 90 fast paced minutes, and people are happy when they leave."
RE-BUILDING TRUST WITH THE MEDIA AND THE SPONSORS. Jackson was clear that he was running a business. The two important planks to create a popular brand were to get great media coverage and get sponsors to put in the monies. So he went about trying to re-build trust with both.
ENSURING FULL HOUSES FOR ALL MATCHES. Jackson reduced ad budgets but set up a nationwide network of marketing people whose job was to ensure full arenas for all Globetrotter games. The Harlem Globetrotters were targetting the whole family; to ensure full house, it kept the ticket prices relatively low. Also, the team made sure that its players sign autographs, talk to kids, and engage with the fans in the stands. The team was also clear that it would not do anything that would embarrass parents who had brought their kids to a game.
DISCIPLINE OF BUSINESS IN THE BRAND: He created a culture of accountability within the organisation. He also ensured that nobody should be satisfied with last year's results – continuous improvement in profitability was key.
Jackson's initial idea was to let go of the players and feed off the merchandising, given the Globetrotter history. However, once he saw the players' willingness to revive the Globetrotters, he re-created his vision and went single-mindedly after the reinvention. Eventually he managed to make the franchise profitable. His belief and passion won in the end.
Sources: Bringing a Dying Brand Back to Life – Globetrotters Got Game (Again) by Mannie Jackson, HBR; Wikipedia.
Visual courtesy: https://www.flickr.com/photos/adley_haywood/