Lead With a Story: A Guide to Crafting Business Narratives That Captivate, Convince, and Inspire
---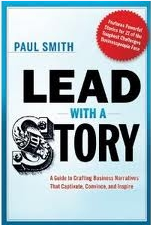 – By Paul Smith
Let's face it – we all love stories! And good, engaging stories stay with us forever!
In the business world, we are all so cut and dried, so facts and data oriented that we tend to forget that most of what we say is quickly forgotten, mainly because it is all so boring. Good stories connect emotionally and have the power to influence people, behaviours and even decisions.
In his book, Paul Smith enumerates ten compelling reasons for storytelling:
Storytelling is simple.

Storytelling is timeless.

Stories are demographic-proof.

Stories are contagious.

Stories are easier to remember.

Stories inspire.

Stories appeal to all types of learners.

Stories fit better where most of the learning happens in the workplace.

Stories put the listener in a mental learning mode.

Telling stories shows respect for the audience.
Storytelling took a back seat as the business world became more analytical and matter of fact. Yet, it is now making a comeback in the business world. Today, many of the most successful companies – Microsoft, Nike, 3M, Berkshire Hathaway, Disney, Costco, Bristol-Myers Squibb, NASA and The World Bank, amongst others – are using storytelling as an important management tool. Nike has designated all its senior managers 'corporate storytellers'; many companies like Kimberley-Clark have formal storytelling training programmes and P&G has hired Hollywood directors to teach its senior managers storytelling techniques. Even business schools like Notre Dame and De-Paul University have added storytelling courses to their management curriculum.
In his book, Paul Smith looks at five broad areas and, within them, a wide range of leadership challenges. The five broad areas in the book are:
Envision Success

Create an environment for winning

Energise the team

Educate people

Empower others
Within these five areas, Smith explains how storytelling could be an effective tool in setting a vision for the future, leading change, establishing values, inspiring and motivating, demonstrating problem solving and encouraging innovation and creativity. 28 different challenges are addressed.
The book has step-by-step instructions and checklists for creating interesting stories and these will prove invaluable to people not really sure about how to get into the storytelling mode.
Smith's book looks at an area that many managers would never have looked at before. Since effective communication is a key facet of any business, understanding the art of storytelling could well prove immensely beneficial to many leaders.
Rating: A-