---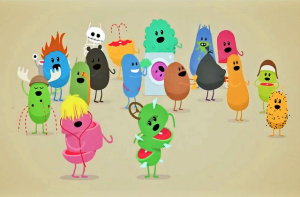 I am sure that most of you would have seen the 'Dumb Ways to Die' ad somewhere (and certainly on YouTube); it is certainly the most talked about campaign of the times. The campaign was designed to promote train safety and features animated characters dying in pretty dumb ways. The black comedy campaign was developed for Metro Trains in Melbourne by McCann Melbourne.
The campaign swept a huge number of awards at the Cannes International Festival of Creativity, becoming the most successful ad campaign in the history of the awards. It took five Grand Prix awards including for film, radio, PR, direct and integrated categories. Of course, the campaign has won other awards all over the world.
The TV and online ads feature animated characters getting killed in bizarre ways; towards the end the public service ad makes the point that getting killed by carelessness around trains is the most dumb. The YouTube ad has over 500 million hits to date.
The song "Dumb Ways to Die" was written by John Mescall with music by Ollie McGill from The Cat Empire, who also produced it. It was performed by Emily Lubitz, the lead vocalist of Tinpan Orange, with McGill providing backing vocals. Fairly soon after its release (in November 2012), the song became a huge hit on YouTube charts, doing better than pop songs by established artists. McCann also released a karaoke edition.
A few weeks ago, the "Dumb Ways to Die" game was released as an app for iPhone, iPod Touch and iPad. The game invites players to avoid the dangerous activities engaged in by the various characters featured throughout the campaign. Within the app, players can also pledge to not do dumb stuff around trains.
The viral nature of the campaign has been so outstanding that Metro Trains would have been stunned by the enormous bang for the buck that they have got. I do wish we see a similarly great integrated campaign from an Indian company and agency.
Visual courtesy : https://www.flickr.com/photos/newtown_grafitti/