---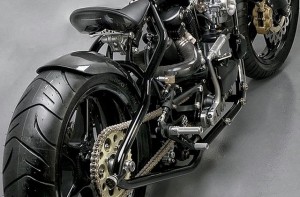 ALL motorcycle enthusiasts have ONE dream – to own a Harley Davidson. The iconic status of the brand is pretty amazing. So what makes a the Harley brand tick?
Harley-Davidson was founded in Milwaukee, Wisconsin during the first decade of the 20th century; it survived the Great Depression (one of only two bike brands) as well as a period of poor quality control and competition from Japanese manufacturers.
Today, the brand is as strong as ever. My take on their continuing sucess:
DISTINCTIVENESS: Harleys are heavyweight (over 750 cc) motorcycles designed for cruising on the highway. They have a very DISTINCTIVE design and exhaust note. The brand has deliberately kept a RETRO look and nobody can mistake a Harley with any other bike. In between, Harley did try and introduce lighter bikes but these met with limited success and were hived off (who wants to buy a baby Harley?).
INNOVATION: If there is anything the Harley-Davidson is known for above all else, it is the never-ending stream of innovative designs and manufacturing techniques of its bikes that have surfaced over the decades. From the sidecar to the front pedal brake, the company prioritized the process of innovation. People who bought a Harley knew they were buying something on the heels of the future.
FANATIC CONSUMERS: Amazingly, overtime, the Harley consumer is becoming older and MORE affluent. The brand attracts a loyal brand community and has long been associated with the sub-cultures of the biker, motorcycle clubs, and Outlaw motorcycle clubs. The revenues that the company makes from Harley merchandise runs into millions of dollars.
CONSISTENT BRANDING: The Harley-Davidson logo is almost instantly recognizable even to non-motorcycle aficionados. Through early attempts to create a loyal customer base, such as with The Enthusiast magazine, to the later development of the Harley Owners Group fan club, the Harley-Davidson Motor Co. has been one of the most successful American companies in history when it comes to having established an effective brand image.
Harley-Davidson offers factory tours at four of its manufacturing sites, and the Harley-Davidson Museum, which opened in 2008, exhibits Harley-Davidson's history, culture, and vehicles, including the motor company's corporate archives.
PART OF POPULAR CULTURE: The Harley is seen as the vehicle that cops and outlaws ride in movies and serials (in much the same way that most characters in movies use Apple computers). This has only added to the mystique of the brand.
Visual courtesy : http://www.flickr.com/photos/x1brett/