---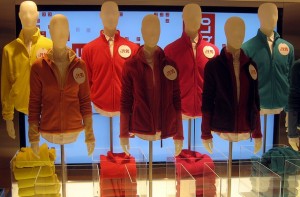 I have to admit, rather shamefacedly, that the Uniqlo brand name has never registered with me despite the fact that I have travelled abroad in the past few years and even though Novak Djokovic wears its shirts and shorts. Uniqlo really entered my cerebrum only after I read the cover story of Time magazine – Can This Vest Save Japan – recently.
Uniqlo is a Japanese casual wear designer, manufacturer and retailer and a wholly owned subsidiary of Fast Retailing Company of Japan. From baby steps in 1985, Fast Retailing has grown rapidly to reach a turnover of around USD 16 billion in 2012.
The success of the Uniqlo brand name owes a lot to its charismatic and aggressive chief – Tadashi Yanai – who is today being touted as the next Japanese business superstar after Akio Morita (of Sony). Yanai is a big critic of the current Japanese way of doing business; he feels that Japanese businesses need to rediscover their entrepreneurial zeal rather than work on the old 'consensus based decision making and social niceties that sap initiative and creative thinking. His mantra – change or die. In many ways, he is the antithesis of the typical Japanese Chairman/CEO.
So what are the learnings from the Uniqlo success story?
1. Vision: Setting of an ambitious long term vision. Yanai wants to create a 500 trillion yen business by 2020 by nurturing multiple business pillars alongside Uniqlo.
2. Product: Good quality casual wear based on innovative technology-based fabrics. 'Its top selling item (featured on the cover of Time) is a down coat thick enough to ward off chilly temperatures but thin enough to crunch into a small bag.'
3. Pricing: Attractively low. In fact, the pricing has come in for criticism in Japan.
4. Range: This is possibly a strategic differentiator. As the Economist noted 'Fast Retailing sells only around 1,000 items, far fewer than its rivals, and keeps them on the shelves longer. "We don't want to chase after 'fast-fashion' trends," explains Mr Yanai. This lets Fast Retailing strike lower-priced, higher-volume deals with suppliers (most products cost $10-20) and makes managing inventory a much simpler and cheaper affair.'
5. Market strategy: First try and dominate the home market of Japan before expanding into other markets. Uniqlo has started moving outside Japan only over the past few years but is now moving rapidly into the West and China. Plans are afoot to move into Asian markets including India.
6. Advertising: Uniqlo's initial foray into the US in 2005 (with 3 outlets) wasn't successful. Undeterred, Fast Retailing relaunched the brand in 2011 in New York, backed by an aggressive campaign featuring Charlize Theron and Orlando Bloom. The brand has 7 outlets today in the US and plans to increase that number to 200 by 2020.
Uniqlo's success has been quite spectacular and it is possibly the first Japanese company in a long while to become such a success. Yanai's way of running his company has come for fulsome praise; equally, he has his critics who point out to the hard work that he forces his workers to do ('Japanese workers have become too lazy' – he counters) and his lack of delegation and absolute control over even the smallest aspect of his business (which he again counters by saying that managers must be hands on). He has also made it clear that his sons, while shareholders in the company, will NOT succeed him – he firmly believes that owners who hand over reins to the next generation rarely succeed. But, as the Economist pointed out, so do companies that are run in a dictatorial manner.
It will be interesting to see how Uniqlo (and Fast Retailing) will do going forward.
Visual courtesy : https://www.flickr.com/photos/28964535@N08/